Make Gardening a Family Affair
- horticulturist and gardening expert
April 10, 2017
Getting children interested in gardening has been a passion and goal of mine since I began my career in horticulture. As a professional, I saw the impact gardens and gardening had on individuals and communities. As an avid gardener, like many of you, I experience the benefits of gardening every time I dig, plant, tend my garden or enjoy its beauty and tasty harvest.
And this is true for all members of our family from very young to the more seasoned. Gardening improves strength and flexibility, lowers blood pressure and elevates our mood. Research shows children exposed to the outdoors and gardening are more focused, have less issues with attention deficit and score better on tests. Girls exposed to gardens and green spaces are more confident and better able to handle peer pressure. Plus, gardening is a fun activity the whole family can take participate in, from the planning process through harvesting.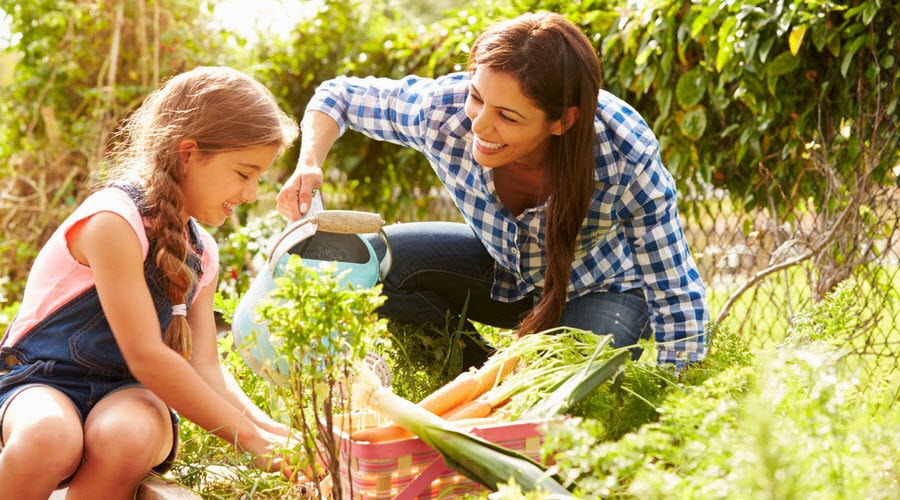 When my daughter was little she wanted a garden of her own. We lived in a small city lot but her father, also a horticulturist, and I gave her prime planting space. The three of us visited the local garden center together, letting her pick the plants she wanted to grow. I did have to stop her father from interfering a few times. He was thinking like a professional, not the parent trying to spark their child's interest in gardening. Once she planted her garden she asked for a 10 feet high fence. I reminded her deer were not a problem in our neighborhood so there was no need for a fence. She pointed out "the fence is to keep you and dad out of my garden!". Enough said.
That summer she harvested flowers, popcorn and a few other vegetables. The following year we asked what she was planning to grow. "Nothing. I showed you and dad I can garden; so no need to plant again." Fast forward 20+ years, she now has her own place, grows flowers and vegetables and found the personal benefits gardening provides. Plus we are both involving her two children in gardening. It doesn't get much better.
The lessons I have learned working with kids and gardening for decades, including my daughter and grandkids, is to let go of trying to make them perfect gardeners. Instead get them excited about the parts of gardening they love. My grandson loves to dig. Half of his garden plot is bare soil for digging and moving earth with his toy trucks. My granddaughter is more orderly and always has a plan and straight rows. Last year we all struggled with the weeds, but as gardeners we know next year will be better.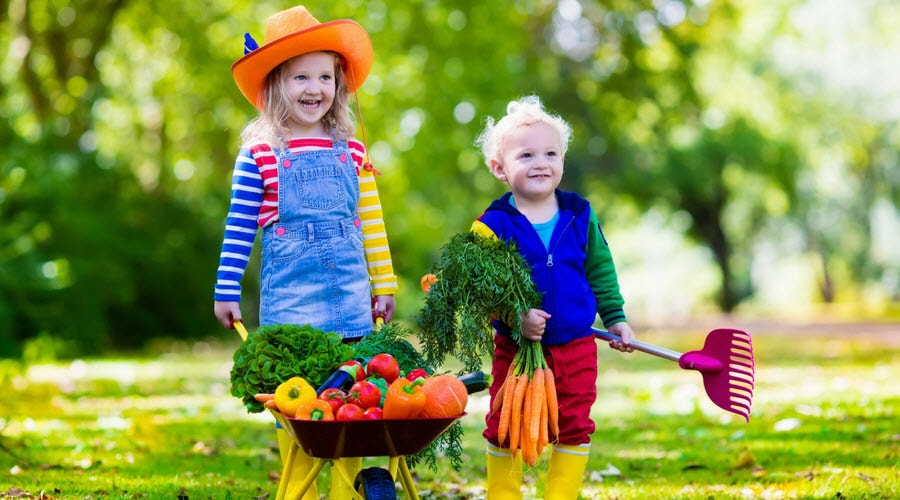 Here are some other things to keep in mind when working with children in the garden.
Consider giving everyone his or her own garden space. Let them pick their own plants and be responsible for its maintenance. Design individual plots or divide larger beds into smaller sections. Or give each family member his or her own container. This is a great option when planting space and time are limited. And just about anything can be planted. An old 5-gallon bucket or washtub with holes drilled into the bottom, recycled nursery pots or a colorful raised planter make great gardens.
Grow vegetables your family likes to eat and a few fun ones to encourage reluctant veggie eaters to give them a try. Include some colorful vegetables like purple carrots and beans that turn green when cooked. No matter the varieties you choose, if they grow them, they are more likely to eat them. And that goes for adults as well.
Include some quick maturing flowers like marigolds and vegetables like radishes to keep the children interested while waiting for that first ripe tomato or watermelon. I often use microgreens at the start of the garden season. I let the children taste microgreens I have grown or purchased. Then they plant their own the same day we plant the garden. The microgreens are ready in less than two weeks, helping maintain their interest in the garden.
Make weeding and pest management a game. Have a contest to see who can pull the most weeds. Be sure to let them know they will lose a point for every good plant they accidently pull or weed roots left behind.
Use the "Pluck, Drop and Stomp" I learned from the children at the Royal Botanical Gardens in Hamilton, Ontario. Point out the bad guys and the damage they do. Have the children pluck them off the plant, drop them to the ground and stomp on them. This eco-friendly pest management strategy also burns some of that excess energy.
Increase your success and reduce the risk of mistakes. Kids, like so many gardeners, suffer from "more is better" syndrome. Avoid damage from overfertilization by using Milorganite, a slow release organic nitrogen fertilizer. It's safe and won't burn your plants even if the weather becomes hot and dry.
End the season with a harvest party. Use your homegrown produce to prepare a picnic or fancy dinner for family and friends. And be sure to use some of those beautiful flowers you grew to decorate the table.